The links in this post may be affiliate links. Read the full disclosure statement here.
ONLY 9 FRIDAYS UNTIL CHRISTMAS!!!! There are a number of toys that are sure to sell out and, unless you want to pay double, triple, quadruple, or more on Ebay, stand in line overnight for the hope of getting one, or stalk the stores daily – best to buy them now and put them away.
I'm sorry to tell you, but Hatchimals are still going to be huge this Christmas. This year, it's the Hatchimals Surprise. Same thing, an egg that hatches itself but inside are twins! I'm also sorry to tell you that at many stores and online, these are already sold out and are selling at inflated prices. As of writing this today, Walmart has them available online for store pick-up at the regular retail price of around $65. Target also has them in stock currently beginning at $64.99, plus a coupon automatically applied for $10 off a $50 purchase or $25 off a $100 purchase – so basically it's cheaper at Target and they'll ship to your home.
Hatchimals other sought after toy for this holiday season is the Hatchimals – CollEGGtibles 12-Pack Egg Carton seen below. A plastic egg carton collector case with a dozen little Hatchimals inside. At the time of writing this, they were still in stock on Walmart.com for $19.99 but sold out in most stores. Target also had them available online at the time of writing this for $19.99. Amazon is already sold out and has third-party sellers beginning at $29.99. You can't go wrong with any of the Hatchimal toys this season.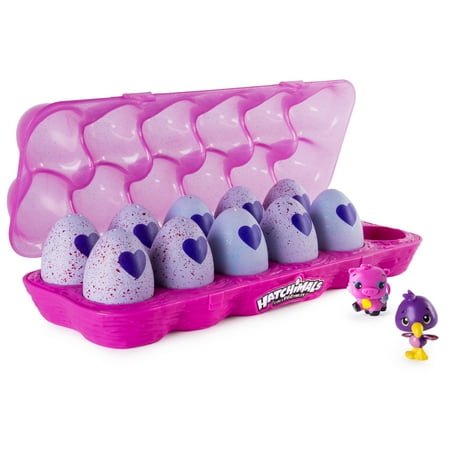 Next on the list is the LOL Surprise BIG Surprise. According to their description, "L.O.L. Surprise provides the ultimate unboxing experience with the L.O.L. Surprise Big Surprise! Discover 50 limited edition surprises inside with exclusive dolls and accessories!" Some of them are even bath bombs! At the time of writing this, Target was out of stock but hopefully getting more at $69.99. At last check Amazon had this item in stock and ready to ship for $69.99. I would grab them while they last. Walmart was also temporarily out of stock but should have them back soon so keep an eye out, charging $69.98. Keep checking back to see if they've gotten more. Click the image below.

Fingerlings will also be huge this holiday season but are already sold out everywhere and the store shelves are bare. Amazon has some in stock and is charging around $18 which is slightly more than Target and Walmart are selling them for but at the time of writing this they were available so scoop them up at the $18 price while you can. I would just keep checking back.
Other toys foretasted to 
sell out long before the holidays:
Fur Real Roarin' Tyler – the playful Tiger. Currently still available at most places online but predicted to sell-out. Target has a coupon automatically added to your cart. If you spend over $100 on toys you get $25 off. This item is $92.99 so buy one of two more little things to get the discount.
Have you got a crafty kid? Then join the Oonies craze! The Oonies Starter Pack, Multicolor Bundle with Oonies Mega Refill Pack because they'll be gone soon. "Oonies are the coolest way to create! Take an Oonies pallet, place it in the inflator and watch it magically grow into an Oonie! They stick to each other so you can make amazing creatures and designs! No glue. No water, no mess. Just air filled balls of amazing fun! Create heaps of Oonie designs with the Mega Refill Pack! They're not a bubble, they're not a balloon. They're Oonies! Inflate, create and make 'em great!"  $49.08 with free Amazon Prime Shipping
For the budding engineer or robotics lover in your life, the toy to get is 
the Meccano-Erector M.A.X. Robotic Interactive Toy With Artificial Intelligence. Meccanno's M.A.X. robotic kit combines artificial intelligence and customizable programming into a unique learning and playing experience for budding engineers, builders and creators. This innovative 12-inch robotic Stem toy brings kids and parents together for a challenging build that utilizes and develops skills in science, technology, engineering and mathematics. In stock right now on Amazon for $89.99 with free Prime shipping which is a GREAT price. It's priced higher on Target.com at $114.99 but there is also a $25 off $100 in toy purchases and it's also $114.99 at Walmart but there is no discount coupon. Amazon is the way to go on this one!
With the popularity of the Star Wars movie and the imminent release of its newest film, Star Wars toys will be flying off the shelves. One of the most wanted is the Little Bits Star Wars Droid Inventor Kit. Kids can create their own custom Droid and bring it to life using littleBits electronic blocks! With the free Droid Inventor app, they'll give their R2 Unit new abilities and take it on 16+ missions. Then they'll level-up their inventor skills, reconfiguring parts to design any Droid they can dream up. I didn't find it on Target.com but both Amazon and Walmart had it in stock for $99.
Bottom line is, though it's barely fall, holiday shopping is on! Put away your pumpkins and get the most wanted toys before you can't get them at all!